Sports Clubs
Raise your brand awareness
Sportal365 will strengthen your brand presence online and appeal to a larger pool of sports fans.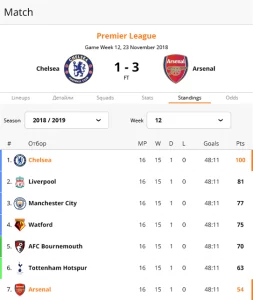 Dynamic standing during games
Sportal365 lets you follow in real-time how the standing of a team changes. Additionally, you can specifiy whether you want to display infomration about the team's standing in a specific tournament, season and stage.
Add live match statistical data to the body of your content, as well as odds information, for a specific match. Moreover, as the game begins and progresses, and your data provider adds more information, we instantly make this information available in the widget.
Team & Player comparisons
Compare the stats sheets of two teams or players in a specific league/tournaments and access detailed information about their performance, as well as enjoy the possibility to display betting odds for a specific match.
Integrating and starting to use Sportal365 is effortless from start to finish
Demo
The first step is a demo organize by us to familiarize you with the CMS.
Discussion
After the demo, we'll discuss your project requirement in more details.
Agreement
Once we are aligned with your requirements, we continue with a commercial agreement.
Onboarding
We'll organize multiple live meetings and give you all the documentation for a smooth onboarding.
Staff Training
We will train your tech and editorial teams to make the most of the CMS's capabilities.
Launch and Support
After completing all set up and training steps, we'll set a date to launch your project and make it live. Оur dedicated support team will be available for all of your requests
Trusted by teams of all sizes to deliver
content to millions